Futronic FS28
Buy FS28
at Biometric Supply,
a subsidiary of Neurotechnology.
General view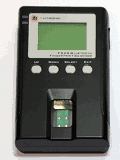 Click to zoom
Futronic FS28 is a fingerprint reader with Bluetooth connection. The FS28 has an optical fingerprint sensor and produces fingerprint images which are compliant with PIV-071006 Image Quality Specification for Single Finger Reader.
The device is powered by a rechargeable battery and can operate as a mobile fingerprint reader without any wired connection to host device. FS28 includes 128 x 64 pixels LCD screen for showing required information.
Support modules for this scanner are included in:
Specifications
Scanner Name
Futronic FS28 FIPS201/PIV Bluetooth Fingerprint Scanner
Manufacturer
Futronic Technology Co. Ltd.
Connection
Bluetooth 2.1, class 2, 10 meter communication range
USB 2.0
Supported OS on host device(*)
Android
Resolution
500 ppi
Image capture area (Platen size)
16 x 24 mm (0.6" x 0.9")
Fingerprint image size
320 x 480 pixels
Sensor type
Optical, CMOS
Illumination
Infrared LEDs
Device power
Li-ion rechargeable battery
3.7 V, 1,500 mAh
Device size
130 x 82 x 30 mm (5.1" x 3.2" x 1.2")
Device weight
400 grams (0.9 lbs.)
Operating temperature
-10°C ~ +55°C
* These operating systems are supported by Neurotechnology SDKs. Device manufacturers may have different lists of supported operating systems.
Where to order this device?
Buy FS28 at Biometric Supply – a subsidiary of Neurotechnology.
Other Futronic scanners
Neurotechnology SDKs also include support modules for these Futronic scanners: