Face biometrics
Neurotechnology's face recognition algorithms have demonstrated a reduction in error rates brought by the new algorithms based on convolutional neural networks. The latest algorithm scored among the top participants in the NIST Face Recognition Vendor Test evaluation in both 1-to-1 verification and 1-to-many identification scenarios.
The algorithm implements advanced face localization, enrollment, and matching using robust digital image processing algorithms, which are based on deep neural networks. The algorithm performs fast and accurate detection of multiple faces in both live video streams and still images, and determines the gender, emotions, and other facial attributes.
In order to prevent security breaches, the algorithm performs face liveness detection, image quality determination, as well as allows storing multiple samples of the same face.
Face Liveness Detection
Certified algorithm for
face liveness check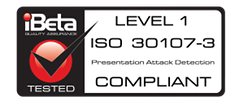 Conformance letter from iBeta
ISO 30103-7 compliant face liveness detection, which prevents cheating with a photo in front of a camera, is available in certain Neurotechnology's facial recognition products. The algorithm was tested by iBeta.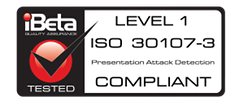 Conformance letter from iBeta
The face liveness is evaluated using a live video stream from a camera. It is performed by the face engine before feature extraction, and if the liveness check fails, the features are not extracted.
Optionally, ICAO compliance check can be used to strengthen the liveness check.
Different liveness check modes are available to choose from, including active, when a user is asked to blink or move their head, or passive, when a user just stays still in fron of a camera for a short period of time.
Technology evaluations
Neurotechnology's facial recognition algorithms have achieved high positions in NIST-organized technology evaluation.
FRVT 1:1 and 1:N Ongoing
In 2023 Neurotechnology facial recognition algorithm scored among the top algorithms in both 1:1 verification and 1:N identification scenarios. The algorithm ranked in the top 3% most accurate algorithms for 1:1 verification border control supervised (Visa Border, Border) and unsupervised (Kiosk) scenarios, as well as for recognition accuracy with face masks. Also, the algorithm ranked in the top 4% of the leading results matching frontal and profile mugshots scenarios for 1:N identification, as well as top results among border control supervised (Visa vs Border, Border vs Border ΔT ≥ 10 YRS) and unsupervised (Visa vs Kiosk) scenarios.
Our comments on FRVT 1:1 and FRVT 1:N participation contain more details about the results.
FIVE (Face in Video Evaluation)
In 2015 Neurotechnology face recognition engine was submitted to the NIST Face in Video Evaluation (FIVE). In average the submitted algorithm was ranked among top 8 most accurate face recognition algorithms out of 16 vendors. See our comment for more information.
Products
Neurotechnology offers these facial recognition and identiication products: