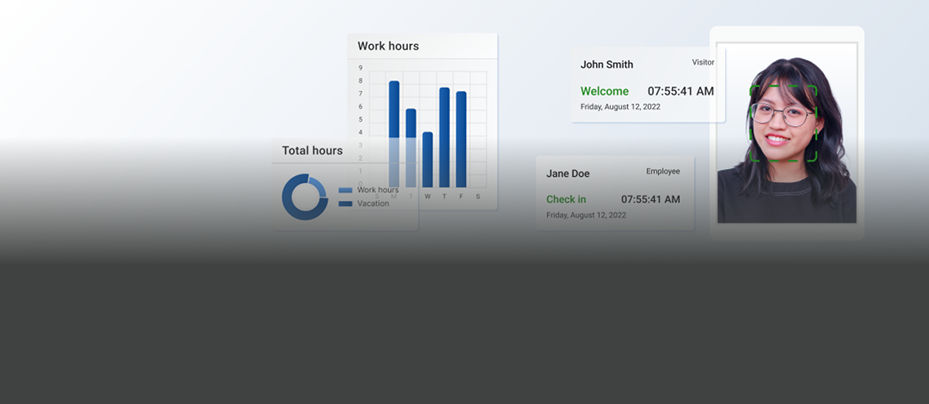 NCheck products family
Attendance and visitor management based on biometric person identification
End-user biometric solutions designed for fast, secure employee and visitor management. Based on proprietary award-winning algorithms, NCheck products offer accurate person identification by face, fingerprint and iris .
NCheck products are based on biometric person recognition and provide these capabilities:
Contactless and hygienic registration – no physical contact is needed when a person is recognized by face or iris. Also, persons wearing face masks or respirators are recognized without the need to remove them.
Convenient usage – there is no need to carry cards, passes or other documents to be identified, as persons are recognized only by their physical features.
Reliable technology – NCheck is backed by years of biometric technologies research and development.
Fraud prevention – the advanced biometric technologies ensure that users provide their own data by checking if a real person appeared in front of camera or a photo of another person was pushed instead.
Automatic operation in real-time – all arrival and departure events for every registered person are automatically checked and logged only by capturing persons on camera or scanning their biometric data.
Multiple face detection – the system can speed up user recognition by simultaneous detection and processing of all people seen in the picture.
Privacy – all captured data is only accessible to the authorized personnel.
These NCheck products are available:
NCheck Visitor Management System – designed for any business or organization, which need to register appointments and ensure that right persons arrived in right time and place. The system uses video cameras to recognize visitors and immediately notify and record instances of access-granted and access-denied events. Visitor access control is ensured by comparing the identified users with access control records in the system, which can be used to control certain doors or gates. The system stores all visit logs and provides their customization additional data and notes. Online registration allows visitors to plan their appointment in advance and access the facility hassle-free.
NCheck Bio Attendance – designed to register and manage employee attendance using biometric identification in both on-site or remote worker scenarios. Optional location tracking and geo-fencing provide a way to control person's place of check-in / check-out. HR management is ensured by customizable employee groups, shift schedules, rosters and restrictions. Report generation includes all necessary summary data for exporting to a payroll system. NCheck Bio Attendance has flexible usage and control as either a cloud-based system or as on-premise installation. Bring Your Own Device (BYOD) usage scenario is available, when employees just install a small app on their smartphones and later use them to check in or out by making selfie photos.
See the NCheck Bio Attendance website for more information.