Futronic FS26EU
General view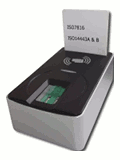 Click to zoom
Futronic FS26EU is a device which combines an optical fingerprint scanner with embedded smart card readers (contact and contactless cards supported). The device is intended for using in two-factor authentication scenario, when a person's fingerprint is compared with a fingerprint template stored on a card.
FS26EU is FIPS 201 / PIV compliant and uses the same fingerprint sensor as the FS88. The scanner is able to adapt to fingerprint image quality (wet, dry or blurred fingers) by adjusting illumination intensity.
The smart card reader module is able to read ISO7816 contact cards, as well as ISO14443 and Mifare contactless cards.
Support modules for the fingerprint reader are included in:
Specifications
General
Device name
FS26EU USB2.0 Dual Card Combo Reader
Manufacturer
Futronic Technology Co. Ltd.
Connection
USB 2.0
Device size
120 x 72 x 42 mm (4.7" x 2.8" x 1.7")
Device weight
250 grams (8.8 oz)
Operating temperature
-10°C ~ +55°C
Fingerprint reader
Supported OS (*)
Microsoft Windows,
Linux (x86-64),
Android
Resolution
500 ppi
Image capture area (Platen size)
16 x 24 mm (0.6" x 0.9")
Fingerprint image size
320 x 480 pixels
Sensor type
Optical, CMOS
Illumination
Infrared LEDs
Contact smart card reader
Standard compliancy
ISO/IEC 7816 Class A, B and C
Accepted card voltage
1.8V, 3V, 5V
Contactless card reader
Standard compliancy
ISO14443 A/B and MIFARE classic
Supported cards
1 KB and 4 KB MIFARE cards
* These operating systems are supported by Neurotechnology SDKs. Device manufacturers may have different lists of supported operating systems.
Other Futronic scanners
Neurotechnology SDKs also include support modules for these Futronic scanners: