A400
General view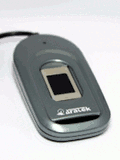 Click to zoom
Aratek A400 is a capacitive fingerprint reader with PIV and Mobile ID FAP 10 certification.
According to the manufacturer, the device has rugged, durable construction and is suitable for using in public areas.
Support modules for this scanner are included in:
Specifications
General
Device Name
A400 Fingerprint Scanner
Manufacturer
Aratek
Connection
USB 2.0
Supported OS (*)
Microsoft Windows,
Android
Resolution
508 ppi
Image capture area (Platen size)
Platen size: 15 x 20 mm (0.6" x 0.8")
Sensing Area: 13 x 18 mm (0.5" x 0.7")
Fingerprint image size
256 x 360 pixels
Sensor type
Capacitive
Device size
100 x 50 x 15 mm (3.9" x 2.0" x 0.6")
Operating temperature
0°C ~ +55°C (32°F ~ 131°F)
Operating humidity
10% - 93% at +30°C
* These operating systems are supported by Neurotechnology SDKs. Device manufacturers may have different lists of supported operating systems.
Other Aratek devices
Neurotechnology SDKs also can be used with these Aratek devices: