ZKSoftware ZK4500
General view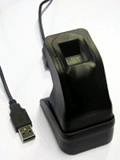 Click to zoom
ZK4500 is an optical USB 2.0 fingerprint reader.
The reader has removable weighted stand. The manufacturer specifies that the device is made of scratchproof plastic and is suitable for both desktop and embedded solutions.
Support modules for this scanner are included in MegaMatcher 13.0 SDK, MegaMatcher On Card 13.0 SDK and VeriFinger 13.0 SDK.
Specifications
Scanner Name
ZK4500
Manufacturer
ZKSoftware
Connection
USB 2.0
Supported OS (*)
Microsoft Windows
Resolution
512 ppi
Image capture area (Platen size)
15 x 20 mm (0.6" x 0.8")
Fingerprint image size
280 x 360 pixels
Sensor type
Optical
Device size
66 x 49 x 80 mm (2.6" x 1.9" x 3.1")
Device weight
(with cable)
200 grams (7.1 oz)
Operating temperature
0°C ~ +55°C
Operating humidity
20% - 80%
* These operating systems are supported by Neurotechnology SDKs. Device manufacturers may have different lists of supported operating systems.
Other ZKSoftware scanners
Neurotechnology SDKs also include support modules for these fingerprint scanners from ZKSoftware: