DERMALOG LF10
General view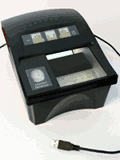 Click to zoom
DERMALOG LF10 is an optical tenprint and rolled fingerprint scanner. The scanner is certified by FBI as IAFIS IQS Appendix F compliant.
The device comes in a sealed IP65 housing. An external power supply is required.
Support modules for this scanner are included in MegaMatcher 13.0 SDK, MegaMatcher On Card 13.0 SDK and VeriFinger 13.0 SDK.
Specifications
Scanner Name
DERMALOG LF10
Manufacturer
DERMALOG Identification Systems GmbH
Connection
USB 2.0
Supported OS (*)
Microsoft Windows
Resolution
500 ppi
Image capture area (Platen size)
81 x 81 mm (3.2" x 3.2")
Sensor type
Optical
Device size
163 x 120 x 238 mm (6.4" x 4.7" x 9.4")
Device weight
(without power supply)
2.3 kg (5.1 lbs)
Operating temperature
0°C ~ +50°C
Operating humidity
5 % - 95 %
* These operating systems are supported by Neurotechnology SDKs. Device manufacturers may have different lists of supported operating systems.
Other DERMALOG scanners
Neurotechnology SDKs include support module for these DERMALOG scanners: