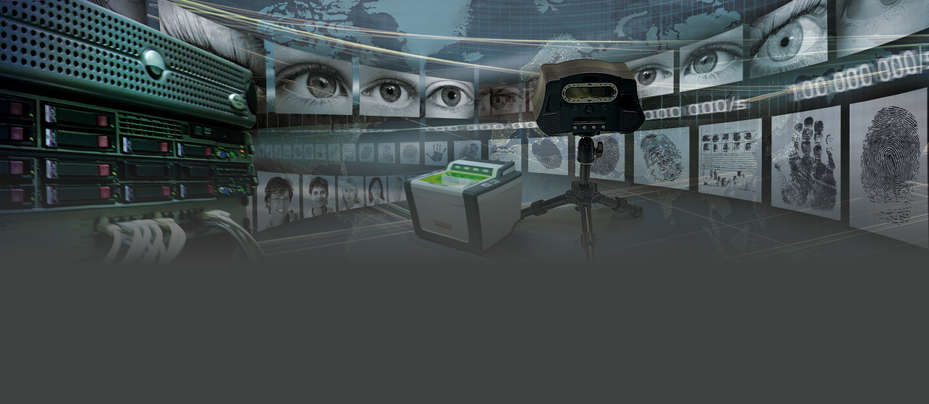 MegaMatcher Accelerator
Solution for large-scale AFIS or multi-biometric systems
MegaMatcher Accelerator is a hardware/software solution that provides high speed, high volume biometric identification for national-scale projects.
The Extreme and Extended versions are designed to run on server hardware and perform fast biometric template matching on the server-side of a large-scale AFIS or multi-modal system. The Standard version and Development Edition are intended to be run on a common PC. MegaMatcher Accelerator software licenses are available for new and existing MegaMatcher Extended SDK customers.
Prices
The prices are effective March 14, 2023.
Quantity discounts do not accumulate over time.
Prices do not include local import duties or taxes.
Product shipping costs depend on delivery country.
You can use Pricing Calculator to find out order and shipping prices to your country.
Customers with Solution Partner status are eligible for product discounts.
Fingerprint and iris scanners can be ordered at Biometric Supply, a subsidiary of Neurotechnology.
MegaMatcher Accelerator 13.0 Development Edition (prices per license)
Quantity

Fingerprint engine license

Face engine license

Iris engine license

Voicerpint engine license

Palmprint engine license

1
€ 3,000.00
€ 3,000.00
€ 3,000.00
€ 3,000.00
€ 4,500.00
2
€ 2,790.00
€ 2,790.00
€ 2,790.00
€ 2,790.00
€ 4,200.00
3
€ 2,630.00
€ 2,630.00
€ 2,630.00
€ 2,630.00
€ 3,950.00
4
€ 2,520.00
€ 2,520.00
€ 2,520.00
€ 2,520.00
€ 3,780.00
5
€ 2,430.00
€ 2,430.00
€ 2,430.00
€ 2,430.00
€ 3,650.00
6
€ 2,360.00
€ 2,360.00
€ 2,360.00
€ 2,360.00
€ 3,540.00
7
€ 2,300.00
€ 2,300.00
€ 2,300.00
€ 2,300.00
€ 3,450.00
8
€ 2,250.00
€ 2,250.00
€ 2,250.00
€ 2,250.00
€ 3,380.00
9
€ 2,220.00
€ 2,220.00
€ 2,220.00
€ 2,220.00
€ 3,330.00
10
€ 2,180.00
€ 2,180.00
€ 2,180.00
€ 2,180.00
€ 3,270.00
11 and more
Please contact us for more information
MegaMatcher Accelerator 13.0 Standard (prices per license)
Quantity

Fingerprint engine license

Face engine license

Iris engine license

Voiceprint engine license

Palmprint engine license

1
€ 20,000.00
€ 20,000.00
€ 20,000.00
€ 20,000.00
€ 30,000.00
2
€ 18,600.00
€ 18,600.00
€ 18,600.00
€ 18,600.00
€ 27,900.00
3
€ 17,500.00
€ 17,500.00
€ 17,500.00
€ 17,500.00
€ 26,300.00
4
€ 16,800.00
€ 16,800.00
€ 16,800.00
€ 16,800.00
€ 25,200.00
5
€ 16,200.00
€ 16,200.00
€ 16,200.00
€ 16,200.00
€ 24,300.00
6
€ 15,700.00
€ 15,700.00
€ 15,700.00
€ 15,700.00
€ 23,600.00
7
€ 15,300.00
€ 15,300.00
€ 15,300.00
€ 15,300.00
€ 23,000.00
8
€ 15,000.00
€ 15,000.00
€ 15,000.00
€ 15,000.00
€ 22,500.00
9
€ 14,800.00
€ 14,800.00
€ 14,800.00
€ 14,800.00
€ 22,200.00
10
€ 14,500.00
€ 14,500.00
€ 14,500.00
€ 14,500.00
€ 21,800.00
11 and more
Please contact us for more information
MegaMatcher Accelerator 13.0 Extended (prices per license)
Quantity

Fingerprint engine license

Face engine license

Iris engine license

Voiceprint engine license

Palmprint engine license

1
€ 51,000.00
€ 51,000.00
€ 51,000.00
€ 51,000.00
€ 76,500.00
2
€ 47,600.00
€ 47,600.00
€ 47,600.00
€ 47,600.00
€ 71,400.00
3
€ 44,700.00
€ 44,700.00
€ 44,700.00
€ 44,700.00
€ 67,100.00
4
€ 42,700.00
€ 42,700.00
€ 42,700.00
€ 42,700.00
€ 64,100.00
5
€ 41,300.00
€ 41,300.00
€ 41,300.00
€ 41,300.00
€ 62,000.00
6
€ 40,100.00
€ 40,100.00
€ 40,100.00
€ 40,100.00
€ 60,200.00
7
€ 39,100.00
€ 39,100.00
€ 39,100.00
€ 39,100.00
€ 58,700.00
8
€ 38,400.00
€ 38,400.00
€ 38,400.00
€ 38,400.00
€ 57,600.00
9
€ 37,700.00
€ 37,700.00
€ 37,700.00
€ 37,700.00
€ 56,600.00
10
€ 37,000.00
€ 37,000.00
€ 37,000.00
€ 37,000.00
€ 55,500.00
11 and more
Please contact us for more information
Server hardware for MegaMatcher Accelerator 13.0 Extended (prices per unit)
HPE ProLiant DL360 Gen10 (128 Gb RAM)
€ 8,500.00
HPE ProLiant DL360 Gen10 (256 Gb RAM)
€ 10,600.00
HPE ProLiant DL360 Gen10 (384 Gb RAM)
€ 12,650.00
MegaMatcher Accelerator 13.0 Extreme (prices per license)
Quantity

Fingerprint engine license

Face engine license

Iris engine license

1
€ 195,000.00
€ 195,000.00
€ 195,000.00
2
€ 182,000.00
€ 182,000.00
€ 182,000.00
3
€ 170,800.00
€ 170,800.00
€ 170,800.00
4
€ 163,300.00
€ 163,300.00
€ 163,300.00
5
€ 157,700.00
€ 157,700.00
€ 157,700.00
6
€ 153,300.00
€ 153,300.00
€ 153,300.00
7
€ 149,600.00
€ 149,600.00
€ 149,600.00
8
€ 146,600.00
€ 146,600.00
€ 146,600.00
9
€ 143,900.00
€ 143,900.00
€ 143,900.00
10
€ 141,500.00
€ 141,500.00
€ 141,500.00
11 and more
Please contact us for more information
Server hardware for MegaMatcher Accelerator Extreme Edition (prices per unit)
HPE ProLiant DL360 Gen10 (512 Gb RAM)
Contact us
HPE ProLiant DL360 Gen10 (1024 Gb RAM)
Contact us