Neurotechnology – Good Start for Success - Shubham Juneja story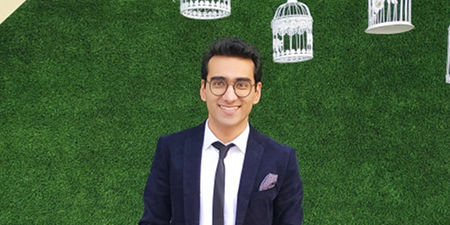 Shubham Juneja is one of deep learning data scientists at Neurotechnology. He performs
brain-computer
interfaces-related R&D for BrainAccess solutions.
Born and raised in Mumbai, India, Shubham holds a Bachelor's degree in Computer Engineering and a Master's Degree in Computer Science with focus on Multimedia.
Shubham started working with us as robotics and deep learning research engineer in 2017, developing autonomous driving and place recognition methods for the company's robot. At present, he works on brain-computer interfaces research with deep learning methods. Alongside of working at Neurotechnology, Shubham is also pursuing a Ph.D. in Artificial Intelligence at Vilnius University.
How did you hear about Neurotechnology? What led to the decision of joining the company, was there something special about it?
After finishing my studies I was in search of a workplace where I could start off my career in the area of Artificial Intelligence and Machine learning research. After some internet searches and taking recommendations from people already in the industry, I found out Neurotechnology is the oldest Lithuanian company that works in the area employing a high density of highly qualified researchers.
Was it difficult to start working with neural networks after the studies, trying to comprehend the vast potential of artificial intelligence?
At the time I started working on neural networks there weren't as many resources on the Internet as there are right now. So it was challenging, but since I trained my first models at the workplace, I was surrounded by experts and hence I had a good support system. What also kept me going was how fascinated I was by the power of neural networks as a learning algorithm.
What is your favorite part of working at Neurotechnology?
There are many things I like about working here. Some of them are how everyone in the research team brings in diverse academic expertise from fields such as Physics, Informatics, Neuroinformatics, Mathematics, etc. to work on AI research, and how the company encourages learning more on the side which is a big plus for me as I am also enrolled in a Ph.D. program at Vilnius University. I get to work at flexible hours to balance work and study.
What projects have you worked on at Neurotechnology?
At Neurotechnology we can switch between multiple projects per our liking and interests, hence I have got to work on two different projects. During the first couple of years, I was involved with the robotics team working on the autonomous navigation of robots. Later I moved to work on AI algorithms for brain-computer interface systems.
Did you face any adaptation difficulties with Lithuanian culture, habits, or peculiarities of communication?
Adapting to the Lithuanian weather has been quite an interesting challenge as it is the opposite of the weather of the city I come from. I had no clue I was a fan of snowy winters before arriving here. Meanwhile, getting acquainted with Lithuanian culture has been a joyride.
What do your day-to-day tasks consist of at the job?
My job involves reading lots of papers, brainstorming ideas with the team, developing algorithms, and lots of testing by making real-time experiments. This may sound like a typical research job, but making funny experiments with the team every once in a while makes it even more fun!
What advice would you give to anyone starting in the field?
Find a mentor or join a team that is supportive and can guide you. Read books, take courses, experiment a lot, fail a lot, take long breaks and make sure you resume with even more inspiration.
Shubham Juneja is one of more than 50 people at Neurotechnology involved in creation of advanced algorithms and technologies.
Please contact us, if you have experience or a keen interest in these fields:
biometric recognition algorithm development
neural networks
computer vision
artificial intelligence
Email us (career@neurotechnology.com) your CV and motivation letter.