Is it hard to stay impartial? - Boleslovas Dapkūnas story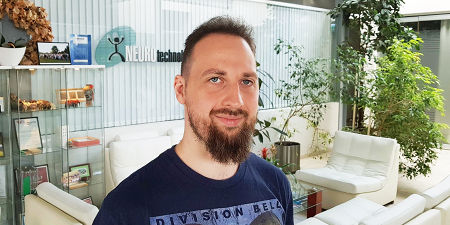 Boleslovas Dapkūnas is one of data scientists at Neurotechnology. He combines computer vision solutions development for the SentiSight.ai platform with teaching activity at Vilnius University.
Boleslovas Dapkūnas is an artificial intelligence professional who develops computer vision-based solutions for the machine learning platform SentiSight.ai, and a lecturer at Vilnius University who is teaching his students the intricacies of the field. He has been working at Neurotechnology since 2011.
Boleslovas's story is about being a lecturer and a Neurotechnology employee at the same time. Is it hard to stay impartial?
Tell us the story of how you started at Neurotechnology. Was it because you were studying yourself or you were teaching others?
I started working here while I was studying for my bachelor's degree. I was invited to join the company by one of my teachers, who showed that a job at Neurotechnology can be combined not only with studies but also with work at the university.
What do you think is more important? To convey the knowledge you gain at Neurotechnology to your students or to apply the knowledge in the industry gained from lecturing and delving into artificial intelligence technologies from a scientific point of view?
It's hard to say. Both aspects are important: when I teach, I can advise students from my artificial intelligence experience in the industry, while when delving into more theoretical aspects in academia, I get good insights into why different methods produce good or bad results.
Where did you start at Neurotechnology? Would you say it is your favorite area?
Initially, I worked in the facial recognition department. At one point, there was an opportunity to switch to the more general object recognition project SentiSight.ai, which I took advantage of. I prefer working on SentiSight.ai because it is a broader field, more abstract and universal solutions need to be found, and the tasks are generally broader.
Is it easy to evaluate students' exams and papers? Are you student friendly?
It is usually pretty easy since I have a set of criteria by which I judge them. Sometimes more difficult cases happen, but that is rare. I try to be friendly and help as much as I can. If I see that the student does not know the exact answer to a question, I give some hints and let them think for themselves. This is often enough to correctly answer more complex questions.
What motivates you more in life, the result or the process?
Both the result and the process are motivating. I think it is impossible to do scientific or research work if you are not motivated by the process: usually, a good result is achieved only after putting in a lot of effort and experiencing many failures along the way.
How do you imagine a future student studying in the field? What skills and abilities should they have?
It would be good for students to acquire deeper knowledge of mathematics, especially statistics, in high school. But in any case, it is not the knowledge that is the most important, but other qualities: that the students are hardworking and diligent, that they are not too lazy to take a deeper look at what they are studying, and not just learn the basics to complete the given tasks. Another important quality that students, as well as young employees, sometimes lack is not being afraid to ask questions if they don't understand something. Asking a professor or senior colleague one question is often enough to solve a problem in minutes instead of hours.
Do you have a favorite activity besides your work and a professional one?
I currently can devote less time to my hobbies than I used to, but I enjoy tabletop roleplaying games and video games, including their development. Another hobby that I used to spend a lot of my time on is music.
Do any of your students work at Neurotechnology? If so, is it difficult to remain impartial when evaluating colleagues' knowledge and work?
Yes, there are. I try to remain neutral about all students, whether they are my colleagues or not, but you would have to ask someone else if I am successful at this.
Boleslovas Dapkūnas is one of more than 50 people at Neurotechnology involved in creation of advanced algorithms and technologies.
Please contact us, if you have experience or a keen interest in these fields:
biometric recognition algorithm development
neural networks
computer vision
artificial intelligence
Email us (career@neurotechnology.com) your CV and motivation letter.