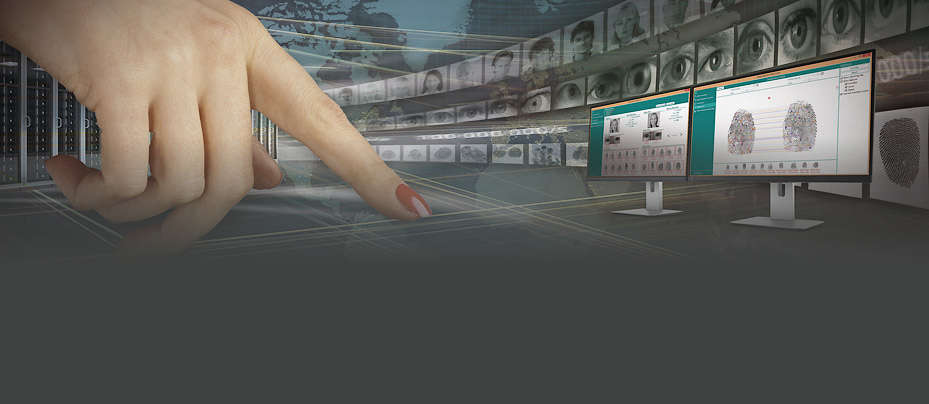 MegaMatcher Automated Biometric Identification System
Integrated multi-biometric solution for national-scale identification projects
MegaMatcher Automated Biometric Identification System is designed for large-scale biometric systems developers and integrators. The modular and customizable solution provides services for high-performance multi-biometric systems with multiple transactions.
Available as a complete system for the deployment of large-scale multi-biometric projects.
System Architecture and Components
Different large-scale biometric projects may have specific system performance requirements. MegaMatcher Automated Biometric Identification System (ABIS) features modular architecture with components designed for a specific task. Each component can be scaled up to meet project requirements.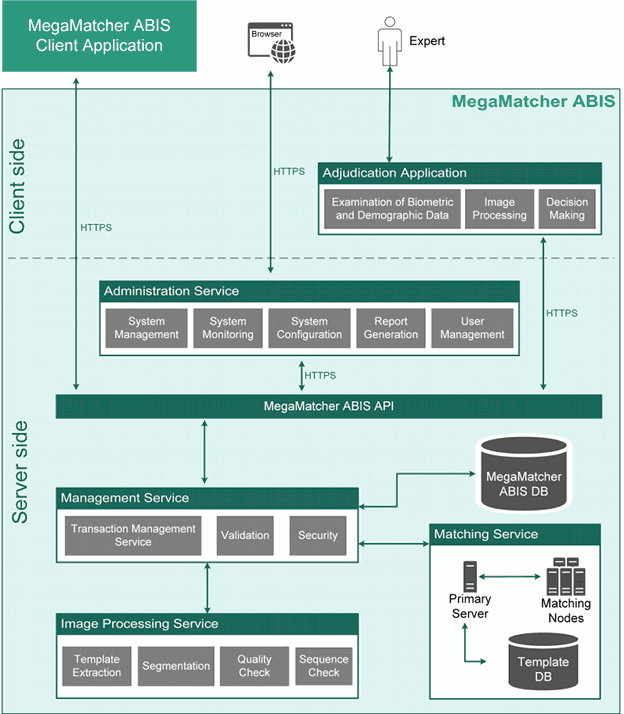 MegaMatcher ABIS 10.0 architecture schema.
MegaMatcher ABIS 10.0 includes these services, modules and components:
Management Service
The Management Service is the core component of MegaMatcher ABIS. Requests for biometric services are executed via transaction mechanism and the unit is responsible for managing MegaMatcher ABIS transaction workflow.
The Management Service splits a transaction into tasks and delegates them to multiple services for execution. In general, each request is being validated by the Management Service, then it is sent to the Image Processing Service for biometric template creation and to the Matching Service for biometric template matching. In case when transaction requires manual inspection, the Management Service will forward it to the Adjudication Application.
These services are included with the unit:
Validation service, which ensures provided biometric data sufficiency to proceed with reliable identification or verification.
Security service, which ensures the authorized access to MegaMatcher ABIS.
Transaction Management Service for receiving, delegating and processing transactions in competitive manner.
The Management Service is capable to verify an extracted biometric template against another template locally.
Image Processing Service
The Image Processing Service is based on MegaMatcher 10.0 biometric template extraction technology. This module is used for biometric data quality assessment and biometric data extraction from fingerprint, face and iris images.
These functions are performed by the Image Processing Service:
Fingerprint segmentation – images with fingerprint slaps are separated into separate images with single fingerprints.
Quality check – images with fingerprints, faces and irises are processed by proprietary and standard algorithms to determine their quality and suitability for further processing.
Fingerprint sequence check – a set of single fingerprints from the same person is checked for duplicates and missing fingerprints.
Feature extraction – biometric templates are created from the provided fingerprint, face and iris images.
Matching Service
The Matching Service is responsible for storing biometric data in the Template Database and matching the received biometric data against the stored in the database. The service is based on MegaMatcher Accelerator 10.0 technology and is controlled by the Management Service.
Depending on project requirements, the Matching Service can consist of a single computational unit or multiple units arranged into a cluster with one of them acting as a primary unit and other units as the cluster nodes. In a cluster the primary unit receives tasks from the Management Service, distributes biometric matching tasks between the cluster nodes, stores biometric data in the Main Database module and synchronizes copies of the Main Database between the cluster nodes.
MegaMatcher ABIS API
MegaMatcher ABIS offers easy and flexible web services-based interface for communication with MegaMatcher ABIS units, outside of MegaMatcher ABIS core, as well as external client applications. The web services cover the necessary aspects of required biometric services for biometric data storing, update, identification, verification and submission of matching results.
Adjudication Application
The Adjudication Application is designed for human experts, who examine questionable biometric matching results, which are forwarded by the Matching Service, and take appropriate decisions. The questionable matching results, like non-matching templates or detected duplicate(s), are determined by defined restrictions in Administration Service.
The Adjudication Application provides visual tool for easy examination of given biometric data by providing detailed templates review:
Fingerprint, face and iris images are shown in side by side or overlapping view with the possibility to transform and enhance biometric images so that some aspects could be seen more clearly.
Modality-specific features (such as fingerprint minutiae, cores, deltas).
Matching scores for each biometric modality.
Problematic fingers.
Matched data which is highlighted for easier inspection (such as matched minutiae are optionally connected by lines for visualization).
Administration Service
The Administration Service is designed to manage and monitor MegaMatcher ABIS system using role-based access control.
The Administration Service consists of the following modules:
System Management – provides ability to manage MegaMatcher ABIS system's state.
System Monitoring – dedicated for visual MegaMatcher ABIS real-time execution monitoring.
User Management – role-based user management to provide/restrict accessibility to different MegaMatcher ABIS modules.
System Configuration – provides ability to define criteria for search engine (such as matching thresholds for identification and verification).
Report Generation – daily and statistical reports are provided for full MegaMatcher ABIS actions inspection.
MegaMatcher ABIS Client Application
MegaMatcher ABIS Client Application is a platform independent web-based application for key functionalities of MegaMatcher ABIS solution, like:
comprehensive multimodal enrollment;
verification, identification and adjudication processes;
transaction and workflow management.
Taking into account different business needs and specific project requirements, some customization might be required. This may include developing custom user interface, workflow scenarios, person's record structure (biometric and biographic data, additional data fields).
Neurotechnology offers custom project development service for providing a customized MegaMatcher ABIS based solution, as well as implementing additional functionality. Also, integrators can develop client-side applications using MegaMatcher ABIS API to meet specific requirements.