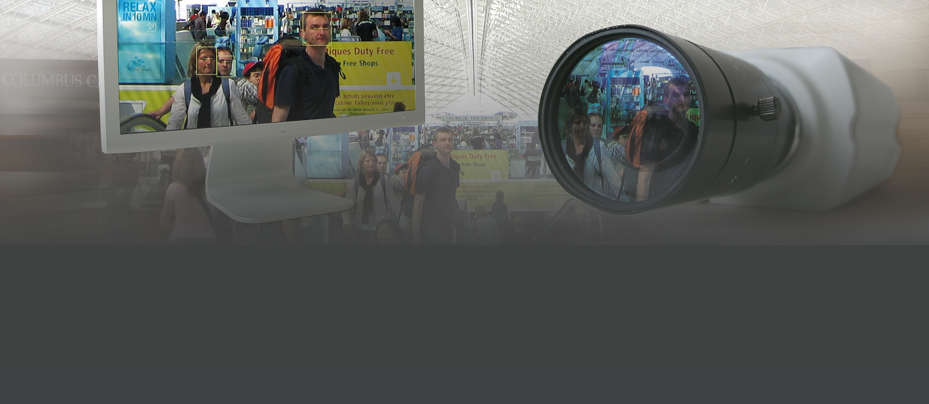 SentiVeillance SDK
Face identification and movement tracking for video surveillance systems
SentiVeillance SDK is designed for developing software that performs biometric face identification and detects moving pedestrians or vehicles or other objects using live video streams from high-resolution digital surveillance cameras.
The SDK is used for passive identification – when passers-by do not make any efforts to be recognized. List of possible uses includes law enforcement, security, attendance control, visitor counting, traffic monitoring and other commercial applications.
Available as a software development kit that allows solution development for Microsoft Windows and Linux platforms.
Licensing Model
For SentiVeillance Server, please see Licensing SentiVeillance Server.
The following licensing model is intended for end-user product developers. Integrators who want to develop and sell a SentiVeillance based development tool (with API, programming possibilities, programming samples, etc.), must obtain permission from Neurotechnology and sign a special VAR agreement.
Product Development
An integrator should obtain a SentiVeillance 6.0 SDK (EUR 790) to develop a product based on SentiVeillance technology. The SDK needs to be purchased just once and may be used by all the developers within the integrator's company.
A license for a specific component of SentiVeillance SDK is required for each computer that runs the component.
SentiVeillance 6.0 SDK includes:
SentiVeillance 10-camera component licenses are not included with the SentiVeillance 6.0 SDK, but can be purchased separately.
Components are copy-protected – a license is required for a component to run. License activation options are listed below on this page.
Additional component licenses may be obtained by SentiVeillance SDK customers as required by their development process.
Product Deployment
To deploy a product developed with SentiVeillance 4.0 / 5.0 / 6.0 SDK or VeriLook Surveillance 1.x / 2.x / 3.x SDK, an integrator need obtain only the additional licenses required for the SentiVeillance 6.0 SDK components that will run on each computer belonging to their customers. The available license types for product deployment are the same as for product development.
Each SentiVeillance 6.0 SDK component running on a computer belonging to the integrator's customer requires a license. License activation options are listed below on this page.
Prices for SentiVeillance 6.0 SDK and additional component licenses can be found here.
Licensing Agreement
The Licensing Agreement contains all licensing terms and conditions.
Note that you unambiguously accept this agreement by placing an order using Neurotechnology online ordering service or by email or other means of communications. Please read the agreement before making an order.
Single computer licenses
A single computer license allows the installation and running of a SentiVeillance SDK component installation on one computer. Neurotechnology provides a way to renew the license if the computer undergoes changes due to technical maintenance.
Each single computer license requires activation for a SentiVeillance SDK component to run. The available activation options are listed below on this page.
Additional single computer licenses for SentiVeillance SDK components may be obtained at any time by SentiVeillance SDK customers.
License activation options
Single computer licenses are supplied in three ways:
Serial numbers are used to activate licenses for particular SentiVeillance SDK components. The activation is done via the Internet or by email. After activation the network connection is not required for single computer license usage.
Note: activation by serial number is not suitable for virtual environments.
Internet activation. A special license file is stored on a computer; the license file allows to run SentiVeillance components on that computer after checking the license over the Internet. Internet connection should be available periodically for a short amount of time. A single computer license can be transferred to another computer by moving the license file there and waiting until the previous activation expires.
Licenses may be stored in a volume license manager dongle. License activation using volume license manager may be performed without connection to the Internet and is suitable for virtual environments.
Volume license manager
Volume license manager is used on site by integrators or end users to manage licenses for SentiVeillance SDK components. It consists of license management software and a dongle, used to store the purchased licenses. An integrator or an end-user may use the volume license manager in the following ways:
Activating single computer licenses – An installation license for a SentiVeillance component will be activated for use on a particular computer. The number of available licenses in the license manager will be decreased by the number of activated licenses.
Managing single computer via a LAN or the Internet – The license manager allows the management of installation licenses for SentiVeillance SDK components across multiple computers in a LAN or over the Internet. The number of managed licenses is limited by the number of licenses in the license manager. No license activation is required and the license quantity is not decreased. Once issued, the license is assigned to a specific computer on the network.
Using license manager as a dongle – A volume license manager containing at least one license for a SentiVeillance SDK component may be used as a dongle, allowing the SentiVeillance component to run on the particular computer where the dongle is attached.
Additional SentiVeillance SDK component licenses for the license manager may be purchased at any time. Neurotechnology will generate an update code and send it to you. Simply enter the code into the license manager to add the purchased licenses.
Enterprise license
The SentiVeillance enterprise license allows an unlimited use of SentiVeillance SDK components in end-user products for a specific territory, market segment or project. Specific restrictions would be included in the licensing agreement.
The enterprise license price depends on the application size and the number of potential users of the application within the designated territory, market segment or project.
For more information please contact us.